The Edit tab allows you to set the roles of each of the uploaded files and to determine the ad display position.
Three roles are defined:
Fixed position

The fixed position (sometimes simply called the banner) is a Flash, HTML5 or image file that is displayed inside the page content on a reserved banner spot on the webpage. If the dimensions of a Flash, HTML or image file match the dimensions of an IAB standard ad size, they automatically get assigned the fixed position role.

Layers

Layers are Flash or HTML5 files that can float over a webpage. These are not bound to the fixed positions that are reserved on the website. Flash or HTML5 files that are not recognised as a standard IAB fixed position will automatically be set as layer.

Assets

Anything that is loaded from a Flash or HTML5 file is an asset. This can be a video file that is progressively loaded, a heavy weight Flash animation, any extra images, javascript files or xml data files. Video and data files are automatically recognised as assets.
For a list of standard fixed position banners, please visit:http://www.iab.net/guidelines/508676/508767/displayguidelines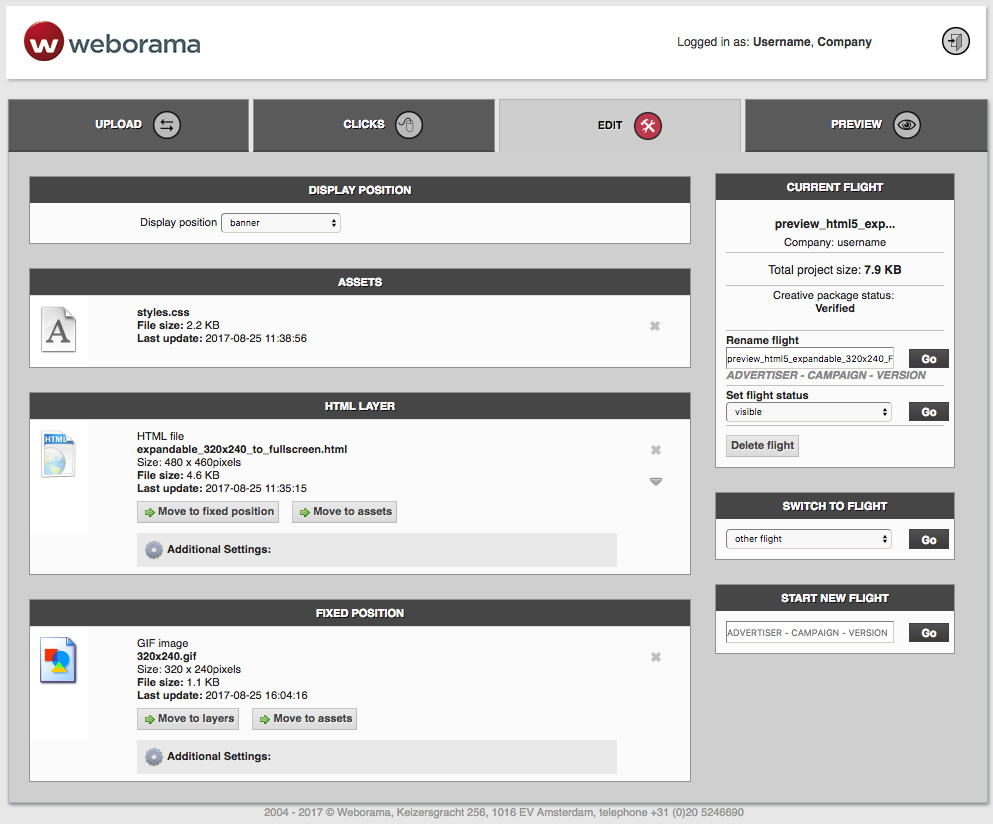 Example 1 Example of creative with three files.
You can change the role of a file by moving it to another role. For example if your movie was recognized as a fixed position as, but you want it to be a layer, click the "Move to layers" button.
Display Position
Rich Media advertisements are always launched from a certain position in a webpage. This position is called the ad display position. In most cases the display position is in fact a banner position. By selecting the display position, you determine from which position in the preview page the advertisement is launched. The following positions are available:
Auto — If set to auto the Previewer will try to match the uploaded fixed position ad with one of the display position formats.
Banner —
For the 468 x 60 and 234 x 60 formats
Leaderboard —
For the 728 x 90 format.
Skyscraper —
For the 120 x 600 and 160 x 600 formats. (also sometime for 300 x 600 formats)
Rectangle —
For the 300 x 250 and 336 x 280 formats
Page specific —
For any custom format that a certain preview page may offer.

When selecting a position that does not exists on the website you would like to preview your creative on, an error will be generated : "the fixed position was not found on this page. Try an other page." This can be solved by either selecting a different ad position, or preview your creative on another page.
Organizing multiple layers
If your flight has more than one layer, it is important to determine in what order they should appear. In other words: which layer appears in front of the other.
You can move layers up and down the display order with the green arrows, below the close (x) icon on the right.